Overview of the Company
Hazer Group Limited (Hazer) is an Australia-based technology development company undertaking the commercialization of the Hazer Process, a low-emission hydrogen and graphite production process.
The company aims to provide clean technology solutions through innovation and collaboration for a safe and sustainable decarbonised future. The HAZER® Process enables the effective conversion of natural gas, and similar feedstocks, into hydrogen and high quality graphite, using iron ore as a process catalyst. The aim of the HAZER® Process will be to achieve savings for the hydrogen producer, as well as providing 'clean' hydrogen with significant lower carbon dioxide emissions, enabling such hydrogen to be used in a range of developing 'clean energy' applications, as well as in large existing chemical processing industries.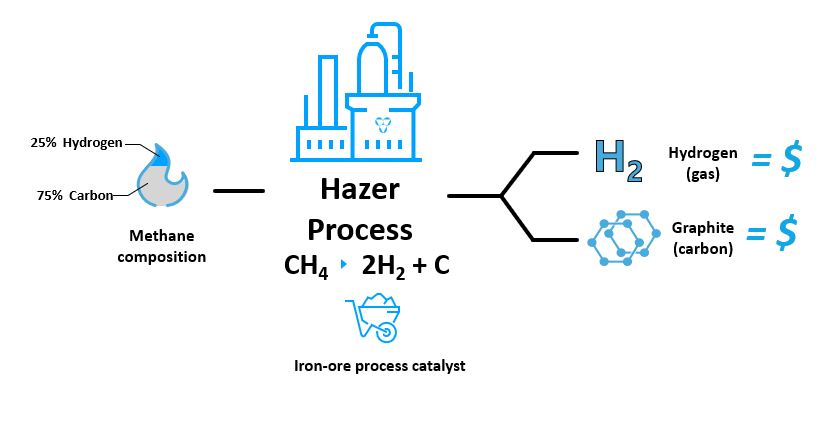 Macroeconomic facts are favorable for the company growth
Potential for a Hydrogen energy boom.
Storage renewable power for long period of time compared to battery storage.
By 2050, U.S. demand for hydrogen could increase anywhere from 22 million to 41 million metric tons per year, up from 10 million today, according to a study released this month by the U.S. Department of Energy's National Renewable Energy Laboratory (NREL).
Bank of America believes hydrogen technology will generate $2.5 trillion in direct revenue — or $4 trillion if revenue from associated products such as fuel cell vehicles is counted — with the total market potential reaching $11 trillion by 2050.
The Advanced Clean Energy Storage project in Utah aims to build the world's largest storage facility for 1,000 megawatts of clean power, partly by putting hydrogen into underground salt caverns.
The concept is quickly gaining momentum in Europe.
Unlike to surpass battery electricity to domestic vehicles however, Hydrogen is proven to be a great solution for large, commercial vehicles, such as trucks, ships and trains.
Government support and incentives will be catalyst for the success of Green Hydrogen adoption, as well as for stock prices boom on Green hydrogen stocks such as Province resources to outperform. And that is exactly what is happening in Australia.
Furthermore, the second output "graphite" gives the investor a exposure to two different high demand products, with largely anticipated boom for Li-ion batteries which uses graphite.
The HAZER® Process produces high quality, low cost synthetic graphite. HAZER's graphite is highly crystalline and has excellent comparison to high-end commercial forms of graphite used in lithium-ion batteries.
Importantly, there is less environmental damage, as Hazer does not need to excavate mass areas of land like natural graphite extraction and does not require the use of harsh chemicals like petroleum coke used to create current synthetic graphite. This is can be a competitive advantage for offtakers depending on their business model and values.
✅ The company is currently at development stage with very good steps already been taken.
✅ The Project is currently being built and it is in advanced stages despite challenging operating environment.
✅ Production to start in 2022, with key milestones already been accomplished.
✅ The company has updated the market in 03 September, that "progress continues with engineering, procurement, fabrication and construction activities achieving milestones in civil construction and commencement of mechanical construction", and that the project has remained on Schedule for 2022 Q1, with the small delay on the commissioning project due the Reactor vessel schedule change.
✅ The company is currently in strong financial position, fully funded to deliver Hazer Commercial Demonstration Project.
Last Updates of the Company
According to the last updates of the company there were some delays as described as following. We believe that those delays have already been factored into the 35% SP correction.
Reactor module fabrication is awaiting finalisation in China with power shortages causing additional
Delays to final heat-treatment
Reactor scheduled for transport to Australia at end-December; but delivery may be delayed due to
Chinese logistical difficulties
Furnace assembly completed and delivered; waiting for reactor delivery to allow assembly
Connection to Western Power grid completed
Motor Control Centre / Main Switch Room delivered and installed; connection progressing
Construction of main structure underway; schedule completion before end year
CAPEX target of $23 – $25 million
Hazer Graphite (key applications)
The range of potential value for this product is very wide $200-$1,000+ per tonne
Energy storage (Li-ion battery anodes, conductive additives);
Refractory additives;
Composite additives (concrete, polymers etc);
Water purification medium (various contaminants;
Hazer Hydrogen (Key applications)
Hydrogen is a key fuel in the transition to a low carbon economy.
Fuel for transportation;
Industrial Energy;
Heat and power;
Renewable feedstock;
Technical Analysis
The Stock price has risen 52% within the last 52 weeks, with spikes of 359% in January 2021, followed by another spike of 120% in October 2021, which the stock price has reached as high as $1.75, near the highs of January in which the stock has reached $1.80. With the hype for reduction of fossil fuel and world wide commitment for net zero of emissions by 2050 from various countries, Hazer's Hydrogen project has caught a lots of attention from investors helping the SP to pump.
We have managed to trade the stock in October together with some VIP members, locking in over 40% profit in the trade.
SP is currently sitting 11% below the SMA 9 which give us a techncially fair or cheap price entry.
Provided the company complete the development forecasted for 2022, we believe plant will be the milistione for Hazer to start talking about offtake agreements as potential clients will be able to test its Hydrogen and Graphite output.
Entry Details: (Restricted area, login is needed)
:
:
:
The information provided by BG Trading to you does not constitute personal financial product advice. The information provided is of a general nature only and does not take into account your individual objectives, financial situation or needs. It should not be used, relied upon, or treated as a substitute for specific professional advice. BG trading recommends that you obtain your own independent professional advice before making any decision in relation to your particular requirements or circumstances. Past performance of any product discussed is not indicative of future performance. (We urge that caution should be exercised in assessing past performance. All financial products are subject to market forces and unpredictable events that may adversely affect their future performance).